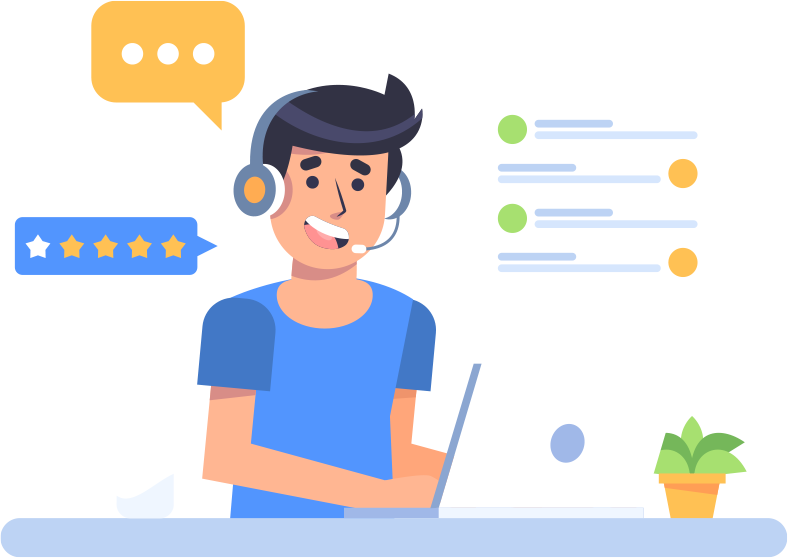 Every Good Call we make is a Good Call for you to take
Seamless Customer Engagement
We understand that your customers are the lifeblood of your business. That's why, as leading Business Process Outsourcing Service Providers, we are committed to delivering exceptional customer experiences that will help you build long-lasting relationships with your customers. Our team of experts has years of experience in customer service, sales, and marketing. We use this expertise to help our clients engage with their customers in meaningful ways, from the first point of contact to the final transaction.
As a Business Process Management Company, we offer a wide range of services, including customer service, sales, and marketing. HRHNext recognizes the individuality of each business and strives to cater to its specific requirements. As a prominent Business Process Management Company, we are dedicated to delivering impactful results. Utilizing state-of-the-art technology, digital and assisted channels as well as proven methodologies, we guarantee that as our clients, you will accomplish the desired results
We are dedicated to delivering incomparable customer service through a variety of languages and platforms – all tailored to meet individual needs while remaining timely, satisfactory, and of the finest quality.
To be the pinnacle in customer service excellence by providing individualized experiences that consistently exceed expectations.
60 Years of Reliability Transformed
Your One-Stop Solution for Streamlined Business Processes
HRHNext has been a dependable brand for over 60 years, from being a consumer durables giant, Hyderabad Radio House, a 6-decade-old brand in South India, has now evolved to provide business solutions for even the most intricate client interaction requirements, becoming one of the leading Business Process Management Company in South India. Our call center services are designed with cost-effectiveness and convenience at their core so you can rest assured knowing your service requirements will be taken care of without any hassle.
Revolutionizing Business Process Management
Our methods and technologies, honed through years of experience, empower us to provide revolutionary insights into call center solutions operations while enabling customers to receive more personalized experiences. With cutting-edge technology at our fingertips and an evolved system that is unparalleled in the industry, we ultimately grant a more personal experience for your customers.
Dream makes the Difference, Experience creates the Expertise, Response delivers Results. Our team is a powerhouse of professionals, boasting over two decades worth of experience. Our dedication and hard work have culminated in unparalleled customer service – which we're continually striving to improve via our commitment and passion for excellence! This family bond has allowed us to create an encouraging environment with bright prospects ahead.
Initially established as HRH (Hyderabad Radio House), it quickly rose to prominence as a leader in the electronics industry.
We introduced LPG to India for the first time and have since become the country's leading commercial gas distributors.
Shifted focus to join the rapidly expanding Telecommunications sector and promptly achieved recognition as an award-winning partner
HRHNext emerged with the intention of revolutionizing customer service for consumers by focusing on the domestic call center industry.
HRHNext shifts its focus to providing comprehensive contact center solutions to prominent companies across multiple industries.
Established ourselves as a customer engagement service provider with 1800 members, serving leading enterprises and start-ups.
Total employees 2300, total 5 locations (Hyderabad, Bangalore, Coimbatore , Warangal and Nizamabad)